FROM THE PRINCIPAL'S DESK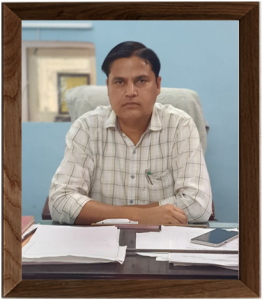 "Education is not preparation of life but education is life itself."
Janta College of Pharmacy is a part of Janta Vidya Bhawan, a lush green, beautiful campus, spread in the heart of Sonepat district, Teh. Gohana, established in 1977 by Ch. Dhajja Ram Ji. The college offers B. Pharmacy and D. Pharmacy courses duly approved by AICTE and PCI, New Delhi and affiliated to Pt. B.D Sharma University of Health Sciences, Rohtak and HSBTE, Panchkula.
Janta College of Pharmacy is the first private institution of Haryana. The college has an excellent infrastructure, experienced faculty, well-equipped with Pharmacology, Pharmacognosy, Pharmaceutics, Pharmaceutical Chemistry Laboratories and other facilities like Library, Herbal Garden and Museum etc. In today's fast changing world scenario, there has been a paradigm shift in the field of education. With a balanced blend of commitment, diligence, sincerity of staff and management, the institution has been able to keep pace with the changing environment.
We are confident that the institution is keeping alive the traditions of the past whilst incorporating healthy modern values. I look forward to this exciting journey of education with selfless dedication of management and outstanding faculty to educate our students in such a way that they can achieve success in all their future endeavours.
Dr. Anand Singh
(M.Pharma , P.hd)

                                                                                                       Principal
                                                                           Janta College of Pharmacy